Table tennis life Tatchan's profile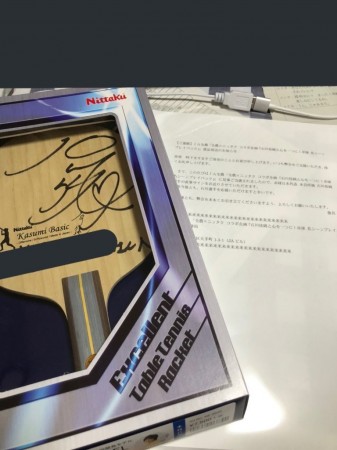 | | |
| --- | --- |
| Gender | Male |
| Age | U10 |
| Experience | 4〜5 years |
Use racket, rubber

Developed with and used by Tomokazu HarimotoSimilar to Innerforce Layer ALC with moderate speed a...

Rubber (Front)

Rubber (Back)

TENERGY 05 has a unique feeling using a combination of Spring Sponge technology, High Tension rub...
User review
Recommended for those who want a rotation like stickiness and the way of hitting is not sticky, and those who feel that Tenergy 05 bites too much
For those who have power, 05 hardware is better than 05.
If you don't make a strong impact, it will become a baseball, so be careful. A little different from the feeling of 05
It doesn't go too high above 05, and the bench technology cuts with a soft touch and goes low.
There is no complaint because the loop goes low and shallow just by being aware of it being a little low as if it were spinning in an instant.
You have to make an impact when you hit hard
It doesn't fly when you hit it weakly, and it flies firmly when you hit it hard.
You can flick a low ball with confidence. Even a stop using rotation will be shorter.
Balls that come out or do not come out can be safely put in low.
You have to hit with a solid posture

2021/05/23

| | |
| --- | --- |
| Overall | |
| Speed | |
| Spin | |
| Control | |
| Hardness | Hard |
Racket
Producer
Grip
Review Ranking
20 points are added in the post. You can replace it by Amazon Gift Card worth $5.00 with 1000 points.