's profile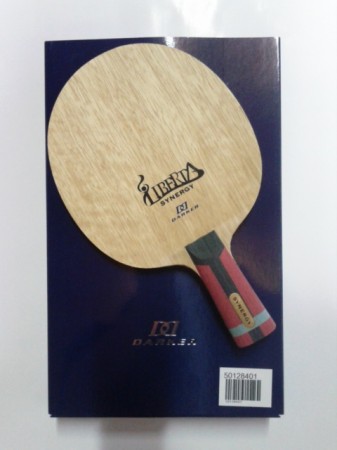 | | |
| --- | --- |
| Gender | Male |
| Age | U50 |
| Experience | 11〜20 years |
Use racket, rubber

Racket

"Baum Esprit" adopts the excellent aramid carbon to feel at impact and speed, boasts a balance of...

Rubber (Front)

Z2 has a long, thin pimple structure and a large pored sponge. This 47.5° medium hard sponge is i...

Rubber (Back)

The new STIGA Mantra is developed with the latest Japanese rubber technology and offers the perfe...
User review
Since it was sold newly, it was cheap, so I tried purchasing it.
It was cheap, so I did not expect much, but I was surprised to try it.
Both speed and spin were satisfactory, it was a performance that was inferior to the luxury rubber and Post Tennessee.

The first impression is a hitting sound. It is a big sound with "Kakieen · Kakien" which is the same as the glue era.
It feels good to beat, I feel better.

The use on the reverse side was too difficult to control because control was difficult, but at the fore, it was soft, so there was feeling to grab, it was good.
Attack on the back was difficult, but Reiki's Chiquita, Flick was good.
The trajectory is linear. The influence of rotation is received a little, but it is within the usable range.

With this price, this performance is not quite possible in recent years.
Try it once!

2017/09/05

| | |
| --- | --- |
| Overall | |
| Speed | |
| Spin | |
| Control | |
| Hardness | Soft |

It is truly TSP. For the price, it is really good balance of performance. Surface is also a smaller, grip even in thin, a small hand, even I, really good grasp feeling is. Weight lightly, my thing, because it was 74 g, shake-off and, is fast switching. In the medium pen user, it is perfect. The feel at impact, a slightly hardened, the initial velocity is fast, trajectory, it is linear, but in just a good, thanks, good control momentum. It is recommended for front-end-type press at a fast pitch. Rubber Table software, of course, is like a speed-based back software, compatibility with in the thickness is good. In mid-pen user, the front-end type, more expensive racket may not be necessary. After that, even in kids and ladies, you can recommend.

2016/08/25

| | |
| --- | --- |
| Overall | |
| Speed | |
| Spin | |
| Control | |
| Touch | |
| Hardness | Little hard |

I used to quite before. In TSP, Swat is, I sell really, but here also, we recommend. Weight, in just a good feeling, whether the center of gravity of the relationship, it was easy to pretend Sanuki. The upper plate is a hard Hiroshi material, but I get even speed, because there is no distance, easy to handle, is good control. At the time, because it was a favorite of the racket, but I used a lot of rubber, any rubber also chemistry was good. Anyway, cost-effective, because the high-performance, we have to consider the re-purchase. We lost the Swat, but here is a little high, and the fact that Hungary made, to say that reflex system, here is I think good. Who are thinking of Swat purchase, here also try to consider. ※ By the way, it is a medium-pen user. I think the front-end direction.

2016/08/22

| | |
| --- | --- |
| Overall | |
| Speed | |
| Spin | |
| Control | |
| Touch | |
| Hardness | Little hard |

It's now used in the main. First of all, is the lightness also what to say. The thickness we use, but it is as much light as in the mainstream rubber. Rotation is also enough. Since the arc fly over, the drive is stable. Hardness is the middle, but the sound becomes, is pleasant. Stop will stop properly in thickness. The disadvantage is, how that speed does not come out too much? It is cheap, but there is stability, I think that it is enough use rubber in the game.

2016/04/30

| | |
| --- | --- |
| Overall | |
| Speed | |
| Spin | |
| Control | |
| Hardness | Little hard |

At the time of purchase mine, racket body 69 grams. Rubber paste total weight 147 grams. However, F is the (medium), B is (Gokuusu). Momentum is the middle position, but the minute, is good control. I think that momentum can cover with rubber. Shot feeling also easy to handle in the middle position, easy to multiply even rotation. Anyway light, easy to spear to switch to the back from the fore, easy to back also use. To control good, I think the treatment if ease, it's the middle pen NO1. After that, if Rarere reduce the weight and a little more bouncy rubber, I think to be a good finish.

2016/04/26

| | |
| --- | --- |
| Overall | |
| Speed | |
| Spin | |
| Control | |
| Touch | |
| Hardness | Little hard |
1
Racket
Producer
Grip
Review Ranking
20 points are added in the post. You can replace it by Amazon Gift Card worth $5.00 with 1000 points.