's profile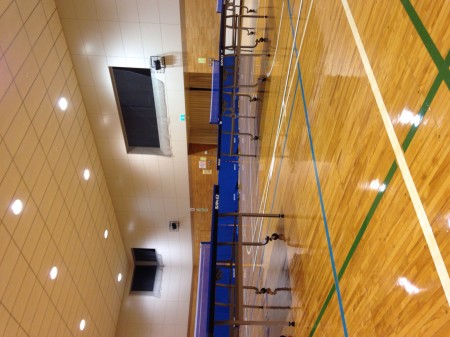 | | |
| --- | --- |
| Gender | Male |
| Age | U10 |
| Experience | 6〜10 years |
Use racket, rubber

Racket

Truly awesome blade for the modern and versatile defensive player! The worlds most successful ven...

Rubber (Front)

Vega Japan from Xiom: Technology drives the new world of table tennis. Internal Mechanic Boost of...

Rubber (Back)

Curl P-4 long pimple rubber achieves its excellent playing characteristics through the combinatio...
User review
Inexpensiveness, control-oriented Intermediate. Beginner just starting table tennis! This has also exposed to either. It is very normal for rubber, what features it does not have, is that it specializes in control performance Speaking by force. Beginner you may not know what it is why became a mistake when the mistake does not result in such a thing if it is this rubber. Good also polish the technology stuck on both sides of the beginner, it is also good to fore emphasis on the back surface of the Intermediate!

2016/05/15

| | |
| --- | --- |
| Overall | |
| Speed | |
| Spin | |
| Control | |
| Hardness | Little soft |

It is the latest of a racket! Portugal of the Three Musketeers, but it is insanely good looking. Especially Aporonya looks comeback is impressive from the middle management. It is recommended for those to the all-round play, such as the Aporonya!

2016/05/24

| | |
| --- | --- |
| Overall | |
| Speed | |
| Spin | |
| Control | |
| Touch | |
| Hardness | Little soft |

It is Iukotonashi and combines the destructive power sense of stability to the easy-to-use anyway. It is a performance that approaches to Tenaji! Yoshi also fight in the play with the rotation emphasis put on the back surface, it has become a also good to drive battered in destructive power and the sense of stability put to fore with the universal rubber!

2016/05/21

| | |
| --- | --- |
| Overall | |
| Speed | |
| Spin | |
| Control | |
| Hardness | Little hard |

Than rubber encased in very shot feeling softer I think is suitable for those who fell in the defense put a rubber softer. However it is insanely heavy. It It was completely heavier than Joo Sae-hyuk. . . Cut of the cut, when you complain about the stability is not to attack, the drive will stretch the ball! A ball is out of power. Lobbing strike might get prolonged, but there is also a heavy thing, will never be easy runs if Nebare patiently. Finally, even those Shibuya professional model same plywood configurations so that Shibuya professional model and was in trouble out of print, please use all means!

2016/05/11

| | |
| --- | --- |
| Overall | |
| Speed | |
| Spin | |
| Control | |
| Touch | |
| Hardness | Little soft |

First is an easy-to-use rubber for the change to be in the title. It is great in terms of the firm off of you get laughs cut unexpected scoring If we put on a table, you do not need a cut of as actual glass game. But poking is tricky (myself lol was in the P-4 and frustrated) would be all right if people who are just firm sense. I think that's right To hate Once you have from the other party is also in total push when that can not be worst poking so also changes push. Also price It is also cheap! Who Emitsubu high user, it is the rubber that wants to try by all means once to those who cut man.

2016/05/09

| | |
| --- | --- |
| Overall | |
| Speed | |
| Spin | |
| Control | |
| Hardness | Little hard |
3
Racket
Producer
Grip
Review Ranking
20 points are added in the post. You can replace it by Amazon Gift Card worth $5.00 with 1000 points.