's profile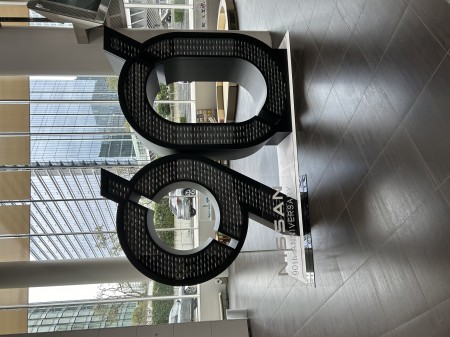 | | |
| --- | --- |
| Gender | Male |
| Age | U10 |
| Experience | 6〜10 years |
Use racket, rubber

Racket

Rubber (Front)

It is not yet released as of January 2018, but since it is already used by Mizutani and Hamamoto,...

Rubber (Back)

Most players are looking for that rubber that fits them just right. Nittaku has introduced the Fa...
User review
The other day I bought a racket and rubber when I bought it at the same time. It's been two weeks since I started using it, but it's the first time such a wonderful combination plate racket.
I have always liked heavy wood plate racquets and have used rackets from other manufacturers as well, but the special material racquets and the feel at impact, which is not much different from the feeling of hitting, speed and spin are astonishing. It is in love with Takaki Niwa player and the rubber is pasting V-15 Extra on both sides, but the drive bites into the opponent coat firmly.
It is a very good racket that matches very well with front-end players. It feels good when the counter is decided (laughs)

2019/07/06

| | |
| --- | --- |
| Overall | |
| Speed | |
| Spin | |
| Control | |
| Touch | |
| Hardness | Little hard |

As I wrote in the headline, there is only the speed is said to be the fastest butterfly. Racket it may be difficult to deal with it control of the lower speed-oriented. His is stuck on the back of Zhang Ji Department of ALC since intensive back, but initially that was replaced paste did not contain the swipe to the opponent's court as to say at all. However, the feeling and also one week I started using the grasp, now also enter swipe. Play against the friend, I had been saying that swipe of the back surface has become horribly than before. So it is in their own manner want to very recommended for people-intensive back. I think that speed comes at the fore, but he had felt that it rubber to exhibit the fastest speed in does not use afraid to use in the foreground is (laughs) counter and block, bang, etc. every compression method to drive .

2016/08/11

| | |
| --- | --- |
| Overall | |
| Speed | |
| Spin | |
| Control | |
| Hardness | Little soft |

First of all, it's sticky rubber, so it's heavy. I put the front soft on the back and it's about 187g, so I feel like it's over 190g lightly on both sides. I think that even people who are not confident in muscle strength can use adhesive rubber, but I think that a certain handicap will be carried.
As for rubber, the sphere is very heavy. It is a good adhesive that takes a lot of rotation. Since the speed doesn't come out very much, I think it's a good way to invite mistakes by the strength of the spin that the opponent dislikes. The serve will be cut. The amount of rotation is even better than tension rubber. Of course, bench technology is easy to do. Adhesive rubber is a very good place.
However, since the sponge hardness is 60 degrees (German standard), which is the same as the shadow of Omega VII China, it is not recommended for people who are not good at hard rubber.

2020/07/13

| | |
| --- | --- |
| Overall | |
| Speed | |
| Spin | |
| Control | |
| Hardness | Hard |

It is in use on the B side.
The Vega series is a famous series that I have been taking care of many times since I started playing table tennis, but I think the high-end version is exactly this. Compared with the products in XION, it is the low-priced version of Omega VII. Maybe a professional. The touch is a little soft. It may be better for intermediate users or higher to use it on the back side rather than sticking it on the fore side. The ball can be stably rotated, and even if you hit it weakly, it will fly forward. It is a rubber that fits nicely.
It's just a bit unsatisfactory ... It's not bad, but I can't deny that it's a little inferior to what other manufacturers offer in this price range. V-15, slightly soft G-1, and atmosphere that is likely to be a little expensive such as Rakuza. It's still usable, isn't it? Recommended for step-ups.

2020/06/01

| | |
| --- | --- |
| Overall | |
| Speed | |
| Spin | |
| Control | |
| Hardness | Little soft |

I've been interested in it for a long time, and I bought it at the same time I bought the racket this time.
The German standard was 52 degrees and the impression before use was that it was a hard German rubber, but when I actually arrived and tried using it, I was betrayed in a good sense. First, I don't feel the hardness of 52 degrees. The ball feels softer than the stated hardness even though it flies like it growls before it bounces, probably because the topsheet is designed to be thin.
Serves and drives can also be cut. It will rotate properly, so you can swing with confidence. And above all, this price. Depending on the shop you buy, the average price is 4500 yen to early 5000 yen, which is friendly to students. DONIC is not so famous in Japan, but if you put this rubber into the volume zones of manufacturers such as Rakuza, Spaven, Rosena, and G-1, it could be a great war, right? It makes me think that way. For the time being, it is a god rubber.
If you don't have money but are looking for a high-performance and versatile rubber like Tenergy, this is a must-see! !

2020/05/31

| | |
| --- | --- |
| Overall | |
| Speed | |
| Spin | |
| Control | |
| Hardness | Hard |
2
Racket
Producer
Grip
Review Ranking
20 points are added in the post. You can replace it by Amazon Gift Card worth $5.00 with 1000 points.