Katsuo000's profile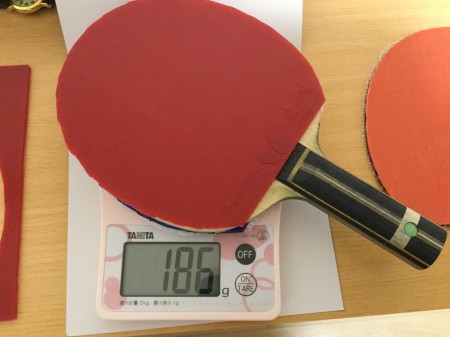 | | |
| --- | --- |
| Gender | Male |
| Age | U30 |
| Experience | More than 20 years |
Use racket, rubber

Racket

A model with ZL-Carbon; powerful attack as well as the soft feeling are major features, high reac...

Rubber (Front)

Rubber (Back)

RAKZA X table tennis rubber from Yasaka is the latest addition to the popular and highly successf...
User review
Became a plastic ball, the amount of rotation declined, and an adhesive rubber is selected on the fore (F) side. I have used Pro 3 in the past, and when I see the review it was an impression that it became easier to handle than Pro 3. When it uses it, it is easier for the sponge to dig into than the leopard NEO 3, it has a ball holding due to biting and can be bent like a tension, ② it pretty much fits from Pro 3 and normal leopard, ③ slightly compared with Pro 3 It feels as like, but it was a very good impression with the high rotation amount that seems like Kyowo Hiroshi and the hoe ball that seems to be the Kyowo Hiroshi after the bounce to the opponent court. NEW 3 NEW 3 It is easy to handle as well as a spruce, but if you compare it with Bruspo, the initial speed is quick and always high and the weight of the rubber is light, I thought it was Bruspo. However, because Bruspo has a high price, there is a lifetime of adhesive strength and dip-down effect, I thought that Pro 3 turbo orange is an ant in terms of cost if I always wanted to replace it before the game. In addition, since Bruspo does not have red circulation, I thought that we tried it from now on, both sides Pro 3 turbo orange, red as Pro 3 turbo orange and black as Bruspo is also fun. Please try by all means. Let's be red!

2017/12/19

| | |
| --- | --- |
| Overall | |
| Speed | |
| Spin | |
| Control | |
| Hardness | Little hard |

By putting DUAL WEB in the outerwear, I purchased it expecting the sweet spot of backhand system technology to spread.
The grip is ST. Three points of disappointment with a good meaning when purchasing and using it.
1. Racket Weight 88 g. Good luck get ones lighter than maker nominal!
2. The block gets very steady. Even if it comes to seven pieces plus a special material, it only enters by putting out a hand. Until now because it was ALC, there were a lot of overs, but seven pieces of wood will firmly absorb the shock, the rally became stronger.
3. God compatibility with adhesive rubber is God! Fore side Nyoto leopard NEO 3 Blue sponge 2.15 mm 40 °, I do not feel mistaking the drive. In addition, you can play! In combination with sticky rubber you have never known a highly flexible racket so far.
Also, of course, the sweet spot is wide as expected with back technology.
The main racket is determined immediately from the splendor I felt using. Although I participated in the match with the game and I played with about 1 practice session, I could win and I did not feel any stress on the racket. It is a wonderful racket. It is imagined that compatibility with Q3 released in October is also good.

2017/09/24

| | |
| --- | --- |
| Overall | |
| Speed | |
| Spin | |
| Control | |
| Touch | |
| Hardness | Little hard |

I used it on the B side.
I bought it because the maker nominal spin value is equivalent to tenazi 05 and that it is a rubber sponge applied rubber.
What was good was
- Tsutsuki at the time of reception, Tikita, B drive It is safe to go all over to overwrite the technology with all the skills
· Tenazie 05 high-rotation back hand drive
On the other hand, meat is somewhat difficult for a floating ball, it was a technique type rubber that aimed at not touching with the other party's notice than to punching with one shot. I felt that both F and B would turn into rotation as I am using the Kyoto leopard NEO 3 blue sponge on the F side. However, I feel that it was good to use as a rubber to polish the foundation of B. I think that it is a hidden name rubber. The price is not as much as tenazi, so why do not you come check it out by all means.

2017/10/30

| | |
| --- | --- |
| Overall | |
| Speed | |
| Spin | |
| Control | |
| Hardness | Little hard |

I used Mizutani SZLC for about half a year and purchased for that sub. When I went to the game on SZLC I got into a situation where I could not receive it because I got too much momentum, after that my main job was to play with Fortius FT ver. D. B system technology and the receiving technology stabilized steadily After a long absence ZLC was issued for a long time and the same as my main job, at the Kyou leopard NEO Vrispo, B was holding down the momentum and tried it with spin art. That's good! Because it is a bouncing racket, the rubber has a rubber that can rotate as much as possible! Since it is Bruspo, it is possible to serve and loop drive that maintains the amount of rotation and B is spin art so even if you drop the hit point you can hit a rich drive and chiquita! If you enter the rally this one! B The meeting decided is decided! It would be nice to concentrate on putting in the rally and the ball would come straight to the opponent so it seemed hard to fight back. This is a rival of the professional racket! Although the main job can do delicate table, ZLC is B's one in rally deciding! Both are wonderful rackets which are hard to attach!

2017/11/04

| | |
| --- | --- |
| Overall | |
| Speed | |
| Spin | |
| Control | |
| Touch | |
| Hardness | Little soft |

Although I was using Mizutani Hayabusi ZLC, since the receiving and the platform are not stable as it got overloaded, I bought it for stability on the board and the receive.

Three good points
1. It has a feeling of hitting soft and grabbing the ball. This sense will lead to a sense of security when hitting the fore drive. Even if you are pasting NEO, the feel is soft, so compatibility with sticky rubber is also good.
2. You can safely skill and receive on board as expected. There will hardly be a stop and a sticky floating. Just feeling a soft hit, so if you try to put a downward spin, you will fly away and you need courage.
3. Because it is not pushed by blocks and drives, it becomes strong against rally. The block is particularly stable. Just by putting it in, it will do something.

As a final point, since it is a heavy racket, please check backhand and turning back. Without difficulties it is a highly recommended racquet of Cospa.

2017/10/01

| | |
| --- | --- |
| Overall | |
| Speed | |
| Spin | |
| Control | |
| Touch | |
| Hardness | Soft |
1
Racket
Producer
Grip
Review Ranking
20 points are added in the post. You can replace it by Amazon Gift Card worth $5.00 with 1000 points.