shinkey12's profile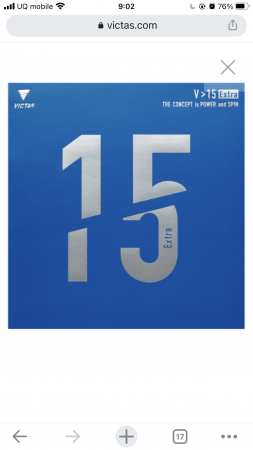 | | |
| --- | --- |
| Gender | Male |
| Age | U20 |
| Experience | 2〜3 years |
Use racket, rubber

Racket

The Fire Fall VC is a High-Tech product featuring innovative, aerospace-tested carbon technology....

Rubber (Front)

Rubber (Back)

The ultimate weapon for spin-oriented offensive players! V > 15 Limber is an elastic high-end off...
User review
I tried using it with Muramatsu player specifications.
Forecut is easier to do than back and it is fun to cut
Swipe is not good
Is it for people who want to enjoy cutting?
The fore drive has a considerable amount of rotation
I had the impression that it was a racket that could rotate due to the bending of the wood but did not speed up.

2021/09/11

| | |
| --- | --- |
| Overall | |
| Speed | |
| Spin | |
| Control | |
| Touch | |
| Hardness | Soft |

It is a standard rubber.
It is a cheat-class rubber that draws an arc even by hand and goes deep into the opponent's court with a fierce rotation,
Since the trajectory tends to be constant, I think that it is easy to eat the counter if it is used by anyone other than rally enthusiasts.
I think that the price is reasonable for performance, but if you can spin it yourself, cheap rubber may be better
05 has a lot of rotation
64 is straight and 80 is somewhere in between 05.
But both serve and chiquita are perfect, so if you have money, it might be tenacity.

2021/09/11

| | |
| --- | --- |
| Overall | |
| Speed | |
| Spin | |
| Control | |
| Hardness | Little soft |

I bought it because it is a lighter version of v15 extra.
It weighs about 4g
Thanks to its lightness, the swing becomes faster, and it feels easier to drive while letting it bite into the sponge.
Chiquita and back drive will fly comfortably. I think it's more suitable for the back than the fore
However, if you are a junior high school student or younger who emphasizes weight, you can use 11 extras on both sides.

2021/09/11

| | |
| --- | --- |
| Overall | |
| Speed | |
| Spin | |
| Control | |
| Hardness | Little soft |

It feels like a soft version of the extra, and if the sponge does not bite in, the ball will fall. Therefore, it is a manual type rather than an automatic type rubber.
However, if you bite into the sponge, you can get a low arc ball that is spinning. The good thing about Limber is that it bites in even if the swing speed is slower than the extras.
After all if it is the first time
v15 Limber → v15 Stiff → v11 Extra → v15 Extra
I thought it would be good to try in the order of.

2021/09/10

| | |
| --- | --- |
| Overall | |
| Speed | |
| Spin | |
| Control | |
| Hardness | Little soft |

Kihara and Yama from Goblin's were used, so I bought it too. Until now, I used to use only soft rackets such as Inner Force ZLF and Kolbel, so it took me some time to get used to it. I feel that YG serve has also improved thanks to the ease of serving with this racket.

forehand
After all, the ball flies linearly with a jumping racket. However, since it draws the minimum necessary arc line, it goes deep into the opponent's coat with a slight net-in. Also, I think that it is a ticking racket that reaches the opponent's court perfectly even if the ball returns just by hitting it because the foot can not catch up.

Backhand
The ball is just right, so if you shake it firmly, a fastball that also takes a turn will go. The speed of Chiquita is also insanely fast.

It's cheaper than other companies' blow-off type, so if you don't care about the brand, this is fine. I thought

2021/09/10

| | |
| --- | --- |
| Overall | |
| Speed | |
| Spin | |
| Control | |
| Touch | |
| Hardness | Hard |
3
Racket
Producer
Grip
Review Ranking
20 points are added in the post. You can replace it by Amazon Gift Card worth $5.00 with 1000 points.